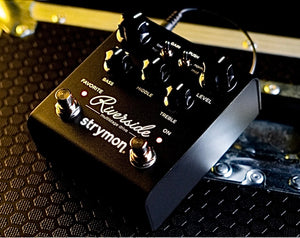 Paint It Black. Here at Strymon, we wanted to do a limited run of some of our favorite pedals we've released over the years, each finished in a sleek black and white finish as dark as the midnight sky, complete with black knobs and a blacked-out box. Despite their minimalist styling, the sounds waiting to be released from these limited edition pedals are as colorful and inspiring as ever.

A new world of drive.
Riverside is the culmination of a thorough analysis of numerous analog and vacuum tube circuits. Our goal? To deliver a new world of harmonically rich, incredibly versatile, tube-inspired drive sounds. We didn't want to build just another distortion or overdrive. We knew we must examine what has been done, and bring a new approach to the world of drive sounds.
Discover your amp's potential.
Riverside's cascading gain stages create harmonically rich tones that are immensely musical and natural—from silky clean overdrive to colossal distortion, and all points between. Our analog JFET front-end ensures that Riverside responds to your guitar with uncompromised dynamics and feel. The precision crafted DSP generates dynamic complexity and pleasing harmonics at every stage, letting your amp shine at any gain level. Riverside takes your amp to places you never knew it could go.
Infinite sweet spot.
Riverside's continuously variable circuit tuning dynamically tweaks multiple parameters under the hood so that the sweet spot follows you at any gain setting. As you turn the Drive knob, Riverside makes continuous adjustments, tuning the circuit for optimum tone. This results in an incredibly versatile drive pedal that is equally capable of providing sparking cleans, mild overdrives, high-gain leads, and heavy saturated distortions.
Flexibility to adapt to any amp. Your amp choice has a large influence on the sound of any drive pedal connected to it. Riverside's musical 3-band EQ, with independent Bass, Middle and Treble knobs, is designed to complement your amp's tone with the flexibility needed to dial in your sound effectively and efficiently. The three-position Presence switch tailors the highest frequencies, allowing Riverside to integrate perfectly with any amp or setup, no matter how dark or bright.
Digital or analog? We chose both.
The first stage of Riverside's custom multistage drive topology is an all-analog, ultra low noise, discrete, class-A JFET circuit. This gain stage is digitally controlled to maximize headroom while adding as much as 20dB of pure analog gain, with tight integration to the subsequent DSP gain stages.
With our hybrid approach you get the best of both analog and digital worlds: The JFET stage provides exceptional touch sensitivity and dynamic interaction with your guitar, while the incredibly powerful SHARC DSP facilitates the great level of detailed complexity and responsiveness you'll want to hear.
Everyone has a favorite.
Riverside allows you to save and recall your favorite settings.
Simply dial up your favorite sound, and press and hold the Favorite switch to save these settings.
Instantly recall these settings with the press of the Favorite switch, or press again to return back to the current knob settings. It's like having two drive pedals in one.
Presence of mind.
Riverside gives you a three-position presence switch to tailor the highest frequencies of your output signal.
Minus (-) provides clarity with a controlled top end that works well with brighter amps.
Enhanced (center) extends the top end to allow for more sizzle on high gain tones.
Plus (+) delivers extended high end detail to the darkest amps, and is also useful when plugging directly into a power amp.

Tame the noise.
Riverside has an optional, variable-threshold noise reduction feature to tame hum, buzz, and system noise when you're not playing.
A downward expander with advanced signal detection techniques creates a seamless transition to noise reduced silence with all types of input signal dynamics, including staccato bursts and slowly decaying sustained notes.
Get a boost.
Chances are, you won't want to wait for your solo to turn on Riverside.
The boost pedal input allows you to leave Riverside on all the time with just the amount of dirt, distortion, and drive you desire, and then boost your overall output signal by up to +6dB when you need to jump up in the mix.
Connect an external switch to engage and disengage Riverside's Boost.
Morphing expression control.
Connect an expression pedal, and enjoy a whole new level of instantaneous, continuous control.
Set as many knobs as you like for the heel position and toe position of your expression pedal, and all settings will simultaneously morph throughout the full range of the expression pedal.
Riverside becomes part of your musical instrument, an extension of your musical voice, an active part of your performance.
Turn up the volume.
The Expression pedal jack can be set up in Volume Mode, which provides a logarithmic taper for smooth volume control.
If you have an expression pedal, this provides an excellent alternative to a standalone Volume pedal.
Your favorite just got more powerful.
Want to control the Favorite preset settings on multiple Strymon pedals with just one switch?
Connect a TRS cable from Riverside's BOOST jack to the EXP input of another Strymon pedal and simultaneously engage the Favorite settings on both pedals.
Hidden superpower.
Lurking inside your Riverside pedal is a hidden superpower: MIDI Control.
Save and load drive presets.
Control all knobs and switches via MIDI.
Integrate Riverside into an elaborate MIDI pedalboard or use in an ultra-compact setup for easy travel.
Connect our  to the Expression pedal jack to access these features.
Note: Your Riverside may require updated firmware to enable MIDI control. Learn how to update and how to check if you pedal requires an update .