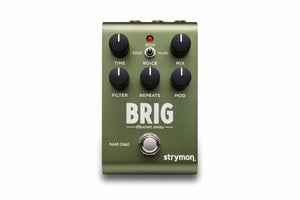 Southern Guitars is an "Authorized Dealer" for Strymon. This is a Brand New pedal! We offer Free USA shipping!
Certified Organic Delay
The delays that become true classics do not simply repeat the notes you play. 
They do something special to each delay repeat – something that evokes a feeling, fueling the music and inspiring you. 
Plug into Brig, play a note, and you're instantly drawn in by repeats that evolve with captivating complexity and uncommonly rich tonal characteristics. 
Brig delivers all the warmth, subtle grit and unique tactile playing experience of analog bucket brigade delays (BBDs), offering three distinct delay voicings in one highly addictive stereo pedal.