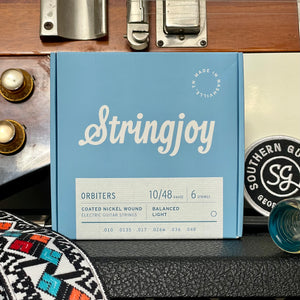 Hold on to your guitar picks, because Stringjoy Orbiters Balanced Super Light Gauge (9-42) Coated Nickel Wound Electric Guitar Strings are about to rock your world – and then some!
These strings are like the Swiss Army Knife of guitar strings – versatile, reliable, and always ready for action. Whether you're strumming open chords or shredding through a face-melting solo, these strings will give you the perfect balance of tone and playability.
But that's not all – these strings are coated with a special enamel that's tougher than Chuck Norris on a bad day. That means you can play as hard as you want, without having to worry about your strings giving out on you.
And the sound? Oh, the sound. These nickel-wound strings will give you a tone that's so sweet, you'll forget all about that pint of ice cream you were about to dive into after practice time. And thanks to their balanced tension, you'll be able to play for hours on end without even breaking a sweat.
So whether you're playing for a crowd of thousands or just your cat (hey, we don't judge), Stringjoy Orbiters Balanced Light Gauge (10-48) Coated Nickel Wound Electric Guitar Strings are the way to go. Get ready to rock like never before!
Gauges: .010 – .0135 – .017 – .026w – .036 – .048